New Cosmos launches new XP-3000II series portable detector.
Learn more about our new range of combustible and oxygen Gas Detectors
(16-08-2021) New cosmos replaces the successful XP-3100 range of portable detectors by the XP-3000II series detectors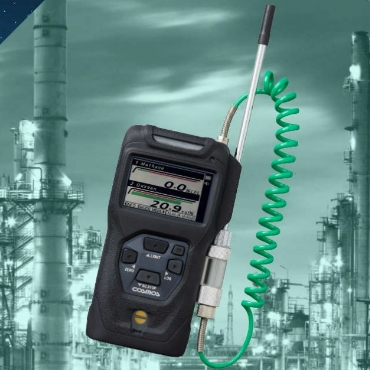 As a follow-up of the XP-3100 series portable detectors we proudly launch our newly designed XP-3000II series of detectors. We have taken all feedback from our XP-3100 series detectors and built in our new portable platform.
Key updates can be found in the robustness of the detector. With IP67 ingress protection is can be operated outside without any problem. It even withstands a drop test of 7 meters due the rubber enclosure of the detector without breaking down.
Several models will have been launched from the beginning, but it is planned to further extend this range of detectors.
Oxygen detector: XP-3380II (25%vol)
Combustible gas detector: XP-3310II (%LEL); XP-3360II(ppm) and XP-3360II-W (ppm to %LEL)
Multi gas detector for combustible gas and oxygen: XP-3318II (%LEL/%volO2); XP-3368II (ppm;%volO2) and XP-3368II-W (ppm/%LEL/%volO2)
The detector is powered by 4x AA Alkaline batteries or by 4x AA Nickel Metal Hydride rechargeable batteries. For the rechargeable batteries a charge station is available.
Due to the build in Bluetooth connectivity easy datalogging can be achieved and shared through the New Cosmos gas detector App available for Android and IOS.
Learn more about our new detectors and visit our website.